If you are interested in your very own Espresso Machine by Salvatore please check out our machine HERE!
The Moka pot is a classic Italian coffee maker that produces strong, espresso-like coffee. But it can be a little tricky to use! Where do you put the coffee grounds and water, what heat level should you use, and how much do you need to pay attention? This step-by-step guide has all the answers.
We're here to show you how to use a Moka pot from beginning to end. Keep reading to find our tips and tricks to getting the most out of your stovetop espresso maker.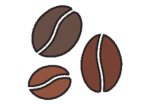 How to Use a Moka Pot:
1.

Grind your coffee.
You'll need your coffee very finely ground. Aim for an espresso-level grind. Alternatively, you can use a pre-ground coffee like Café Bustelo.
---
2.

Add water to the bottom.
Pour water into the bottom of the Moka pot, up to the overflow line.
---
3.

Pack the coffee into the filter.